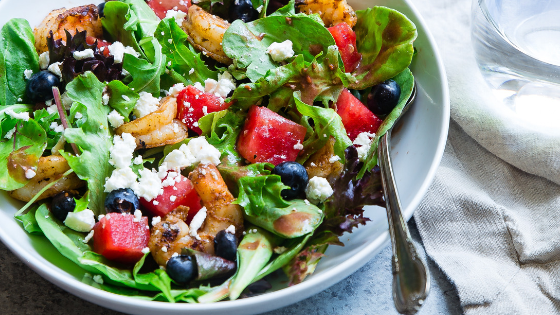 Spring is here! At this time of year, we like to publish our favorite spring recipes. These dishes are perfect for entertaining and also tasty on a quiet night when nothing else is going on. Enjoy!
1. Grilled Chicken and Fresh Onion Ceasar Salad
The next time you're grilling outside, prepare an extra chicken over the flames. When you're done, cut up the chicken into small slices. Combine your favorite Ceasar dressing with romaine lettuce, fresh onions from the farmer's market, and crispy croutons. Top with the grilled chicken. This is an easy and excellent salad to have with your next outdoor picnic or barbecue.
2. Simple Citrus Avocado and Spinach Salad
Slice an orange and an avocado and set to the side. Prepare a spinach salad with blue cheese and sliced almonds. Toss your favorite tangy dressing on the salad, then sprinkle orange and avocado slices on top. This attractive salad is best served with a light lunch like a chicken sandwich.
3. Fruit Salad
This delicious fruit salad makes an excellent contribution to your next potluck. Slice up bananas, strawberries, pineapple, and grapes. Next, drizzle orange juice concentrate over the mixture until it's coated, but not too syrupy. The orange concentrate will help preserve the bananas and stop them from turning brown, while also providing a very tasty "sauce." It will be the hit of your next event with friends.
4. Fresh Veggie Pasta Salad
Combine some of your favorite seasonal vegetables (peppers, onions, radishes) and pasta of your choice all in one dish. Cut up small pieces of fresh mozzarella and add that to the salad. Finally, drizzle the mixture with an Italian salad dressing of your choice. Sprinkle with freshly ground sea salt and pepper. This recipe transports well and can be brought to your next family event. For extra protein, add some chicken or sausage leftovers from a recent meal.
Stop in at the Pointe at Suwanee Station
At the Pointe at Suwanee Station, we're excited that spring is finally here! We welcome you to check out our Suwanee, GA apartments and join our community. Contact us today to see our available units.